Grow It! is an economic development initiative created by Finance New Mexico in partnership with the New Mexico Municipal League. The project's goal is to stimulate private sector job development in New Mexico by putting information about business resources directly into the hands of entrepreneurs.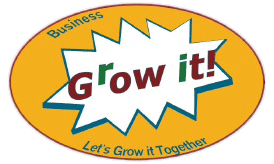 Too many small-town entrepreneurs are unaware of federal, state and local business-assistance programs that might help them start ventures that provide jobs and tax revenue.
The Grow It! project aims to draw business owners and entrepreneurs into the system of free and low-cost services such as WESST, SCORE, the Manufacturing Extension Partnership and the Small Business Assistance Program offered by New Mexico's national laboratories.
When business owners in participating municipalities register or re-register their company, they receive a packet of business resource information. With these resources in hand, business owners can learn about, for example, the state's Job Training Incentive Program, or ISO registration training and export assistance — all of which provide avenues to increased revenue.
Read more about Grow It!:
Listed below alphabetically are unique pages for each participating municipality, tailored to provide business resources that exist in and around that municipality. To find business resources in and around your area, click on your municipality below: